MIDIChFilter v1.20
MIDIChFilter is a simple VST plugin that will let through MIDI data on the selected MIDI channel(s).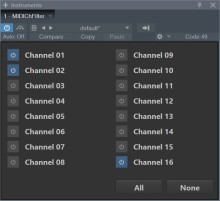 System Requirements
Windows XP/Vista/7/8/10. VST2 compatible 32-bit or 64-bit host.
License
This plugin is free to use for commercial or non-commercial use, but is copyrighted and cannot be distributed without permission.
Download & Installation
Click "Download", open the downloaded zip file and extract the dll file to your VST plugin folder (MIDIChFilter32.dll if you use a 32-bit host, or MIDIChFilter.dll if you use a 64-bit host).
Version History
v1.20
Support for hiDPI displays. Right-click the plugin window to select scaling (100%, 125%, 150%, 175%, 200%, or Auto).
Possible to change skin via the right-click popup menu.
Fixed: GUI issues when Windows 10 app scaling was set to "System (Enhanced)" for non-hiDPI hosts.
Various minor fixes and enhancements.
v1.13
Fixed: Dialog boxes shown behind plugin window in Reaper if plugin window was pinned ("stay on top").
v1.12
Fixed: Poly Aftertouch and Program Change midi messages not passed through plugin.
v1.11
Updated user guide.
Fixed: Plugin would crash/plugin window not display on some Windows installations.
v1.10
Updated internal framework and GUI.
Updated layout of user guide.
Fixed: Problem with default window size in Cubase.
v1.02
User guide now included.
Fixed: Noise in Cubase.
v1.01
Fixed: Error when unloading plugin from memory.
v1.00